Why I created this platform. My story.
---
From my rich experience as an NT2(Dutch as a 2nd language) teacher, I have learned that there are 4 common difficulties that students are having on their way to the Inburgering exam:

"Next to my other daily activities, it's hard to make time to study"

"Preparation for the Inburgering exam costs a lot of time and money"

"I don't know the best way to study for the exam"

"Most schools and course materials don't focus enough on the exam"
Based on these findings, I have created online courses in which you:

1) Study for the exam in your own time and at your own speed
2) Prepare for the exam at an affordable price
3) Receive tailored guidance for your A2 or B1 exams
4) Practice study material that is 100% focused on the exams

I am very happy to see that thanks to the online courses, students are able to study in a pleasant way and take the exams with full confidence.

Best of luck with your studies!
Bart Nawijn - Founder InburgeringOnline.nl / NT2 teacher (picture)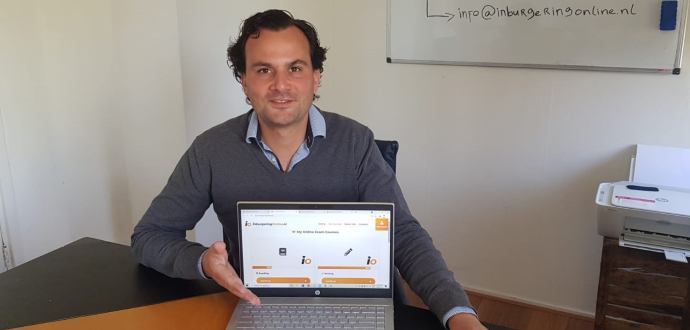 Why I created this platform
My story
---
From my rich experience as an NT2(Dutch as a 2nd language) teacher, I have learned that there are 5 common difficulties students have on their way to the inburgering exam:

"It's hard to make time to study"
"Other courses cost a lot of time"
"Other courses cost a lot of money"
"I don't know how to study"
"Schools don't focus on the exam"

Based on these findings, I have created online courses in which you:

1) Study in your own time
2) Study at your own speed
3) At an affordable price
4) With guidance for A2 and B1 exams
5) Practice 100% exam focused material

I am very happy to see that thanks to the online courses, students are able to study in a pleasant way and take the exams with full confidence.

Best of luck with your studies!
Bart Nawijn - Founder / NT2 teacher
(picture)

How to study with courses